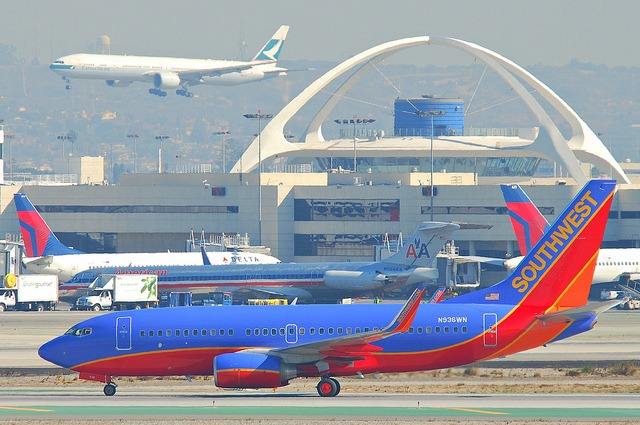 When my cab pulled up to Terminal 1 at LAX on Tuesday, I cringed: The line outside Southwest Airlines' doors snaked down the sidewalk. Bomb scare? Computer system down? Flight schedule bottleneck? I immediately made a beeline for the self-serve kiosks I knew were just inside the door, feeling a little smug that I was an experienced traveler and knew I did not need to wait in line.
Unfortunately, after recognizing my identity and my destination airport, three different kiosks told me I'd need to talk with an agent. So there I was, at the end of the line with all the leisure travelers, despite my best efforts to find someone who could talk with me immediately.
Things did not get better. When I finally reached the check-in agent, she told me she couldn't find my confirmation number. I showed her the email, and she tried every which way to "locate" me. Finally, she checked the date.
That's right, my ticket was for the flight three days prior. Well, that was humbling. After handing over my credit card and getting booked on a full-fare ticket (plus losing my funds on the "missed" flight since that's SWA's policy on no-shows), I gathered my belongings and headed to the gate.
The inevitable had happened. I'd made a stupid mistake and booked a ticket on the wrong date. This was something I thought about a couple of years ago when interviewing a frequent flyer who said it was one of his big fears because he traveled so much and was booking flights so quickly. He knew booking the wrong date was bound to happen eventually. A friend made the mistake a few years back. And now, I had, too.
I bought the ticket online a few weeks ago, while in a hurry, on a complicated, multi-leg itinerary. Now there was nothing to do but swallow my pride, eat the cost, and learn from it.
Have you ever booked a ticket on the wrong day?
Photo: Flickr/Aero Icarus