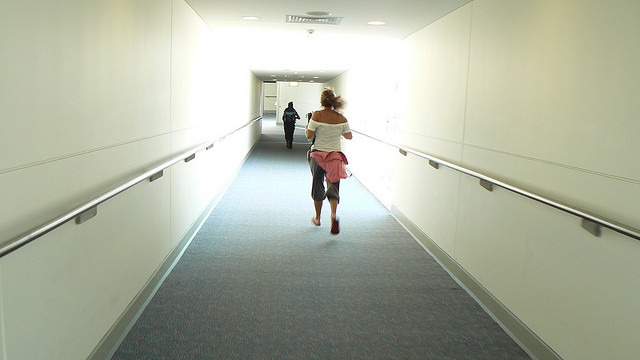 It used to be the dreaded final exam dream that would have me waking in a cold sweat a few times a year. You probably know it, too: That recurring dream where you're headed to the final exam in a class but you're not prepared. There are variations on this classic. For some, in the dream they didn't study for the test. For others, they also forgot to attend the class. For still others, they then arrive for the test naked or in their pajamas. I've had the first two of those flavors many times, and in my case it's always, always, always a math test. (No surprise there. Though I did study for math deciduously, because it wasn't a strength of mine.)
In the last year I've noticed I'm no longer haunted by this final exam dream, probably because school is a distant memory. Or perhaps it's because I've moved on to a new type of frustration dream that reflects my current life.
It's the travel nightmare.
In this dream, I can't get to where I need to be on time. Something out of my control is always holding me back. Sometimes it's the airport gate, and I can't seem to get out of security. Or sometimes I can't figure out which is my hotel room because I lost the key sleeve—and, of course, I'm in a huge hurry, trying to make a deadline or to pack for a flight.
Strangely enough, I'm not a stressed traveler. I allow plenty of time. (My husband says, too much. Which reminds me of an observation of a friend. He says there are two types of travelers: those who get to the airport early, and those who get to the airport late. And they're all married to each other.) I've never missed a flight. And I always find my hotel room.
Perhaps I need to acknowledge the underlying stress in travel and try to process this more overtly. No, I think I'll just let my deepest psyche work that one out in my dreams.
 Do you ever experience travel-related frustration dreams?
Photo: Flickr/belen becker