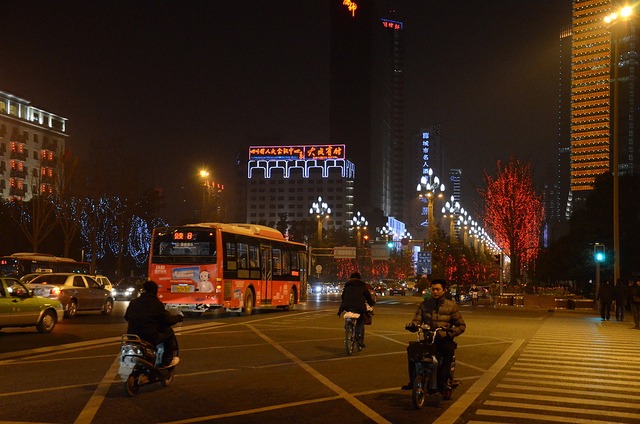 I stood at my 38th floor hotel room window, looking out on the very bright lights of Chengdu's high-rises. "I should go out," I thought. "But it's raining. And I need a little time to myself." So I closed the drapes and opened my computer. I'm not proud of that moment, but it was at the intersection of idealism and reality. So I would spend the free hour in my hotel room.
I'm just back from a trip to Chengdu, the capital of the Sichuan province in southwest China, and I have a little regret about that moment. Yes, I did see the sights of the city over the course of four days. And there were other moments when I did explore on my own. But that particular fulcrum of decision-making got me to thinking that when you travel for business to an unfamiliar and somewhat intimidating city, the inclination may be not to explore. After all, you probably already accomplished what you went there for—the business. You're exhausted. And you're alone. Not the best of conditions for striking out on an adventure.
Since then, I've thought about a few tactics I'm going to try on my next trip:
1. Take a humble walk. It doesn't have to be anything extraordinary. One night in Chengdu, the group I was with was bused a short distance to another hotel for an event. After the dinner, someone suggested we walk back to our hotel instead of waiting for the bus. As we did, we meandered through a large but informal group of Chinese doing aerobics together in a stadium parking lot. This turned out to be one of my favorite Chengdu memories. A colleague on the trip said you're most impressionable on the first night in a place, so it's especially important to walk then.
2. Overcome tour shame. There was a time I was too proud to take a tour, but I no longer let that stop me. It's the fastest way to become acquainted with the high points of a city. And it's easy and nonthreatening—no worrying about logistics or language, no decision-making. You can just concentrate on seeing, really seeing, the city. The same concept but on a smaller scale: Your concierge can help you hire a guide for a day. In Hong Kong, when my guide and I decided to stop for coffee, he asked whether I'd prefer Starbucks or Chinese. The answer was obvious, and I was the only foreigner in the place as we drank coffee and Fred ate a fried egg sandwich.
3. Open up your rolodex. (Or, to update the phrase: Search your contacts.) If you have any local connections, they would probably be very happy to recommend an authentic restaurant and maybe even share the meal with you. It's one of the few ways you will find restaurants locals frequent. Plan B for this concept is to consult the hotel concierge, who may be able to make an off-the-beaten-path recommendation. In Chengdu I stayed at the Ritz-Carlton, and the hotel's general manager, Chris Clark, described two situations in which his employees went above-and-beyond. It struck me that both stories (which were impressive!) involved guests who felt nervous about venturing out, and the employees accompanied them.
Hearing of such reticence (even from Chinese guests), reassured me that my regrettable moment at the window was natural. But I'm committed to low-key but more adventurous exploration on my next visit to China.
Do you explore intimidating cities when you're traveling for business, or do you tend to stick close to your hotel? If you're an explorer, I'd love to hear your tips for getting out there.
(Photo: Flickr/Glenn Jystad)